Meanwhile , in Sweden!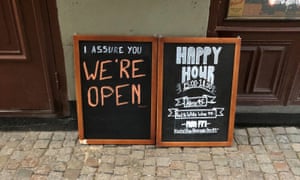 While every other country in
Europe
has been ordered into ever more stringent coronavirus lockdown, Sweden has remained the exception.
Schools, kindergartens, bars, restaurants, ski resorts, sports clubs, hairdressers: all remain open, weeks after everything closed down in next door Denmark and Norway.
Universities have been closed, and on Friday, the government tightened the ban on events to limit them to no more than 50 people. But
if you develop symptoms, you can still go back to work or school just two days after you feel better. If a parent starts showing symptoms, they're allowed to continue to send their children to school.
It has only been in the past couple of days that the death toll has started to increase significantly, rising by a third in a single day on Thursday and Friday, with 92 people now dead and 209 in intensive care. As he announced the tighter restrictions on Friday,
the prime minister, Stefan Löfven, warned that the coming weeks and months would be tough
.
............................
Anders Tegnell, Sweden's state epidemiologist, believes it is counterproductive to bring in the tightest restrictions at too early a stage. "As long as the Swedish epidemic development stays at this level," he tells the
Observer
, "I don't see any big reason to take measures that you can only keep up for a very limited amount of time."
His team at the Public Health Agency of Sweden is critical of the Imperial College paper that warned this month that 250,000 people in the UK would die if the government failed to introduce more draconian measures
. A week later Johnson ordered the police to implement a partial lockdown to combat the virus, telling people they "must stay at home".
"We have had a fair amount of people looking at it and they are sceptical," says Tegnell. "
They think Imperial chose a number of variables that gave a prognosis that was quite pessimistic, and that you could just as easily have chosen other variables that gave you another outcome
. It's not a peer-reviewed paper. It might be right, but it might also be terribly wrong.
In Sweden, we are a bit surprised that it's had such an impact
."
https://www.theguardian.com/world/2020/mar/28/as-the-rest-of-europe-lives-under-lockdown-sweden-keeps-calm-and-carries-on
Last edited: