CHB World Championship People's Champion
May 16, 2013
44,398
21,327
Can anyone beat these?
Not allowed to tell a woman that Twilight sucks, because she thinks that means you're secretly planning to rape her.
Clapping triggers anxiety, don't clap.
Give money to transsexuals whenever they demand it, otherwise you're essentially committing a hate crime.
Apparently you can rape a woman without even touching her. Perhaps by disagreeing with her?
Rapey Corn Chips!
Turns out that
most
people have always been gay, all throughout history.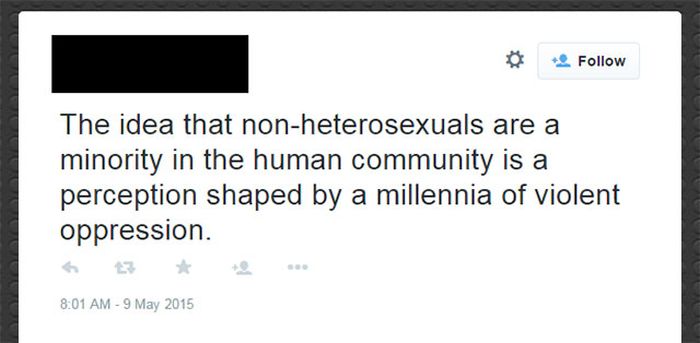 I'd totally date a lesbian. She'd better fuck me though, so as not to be cisphobic. I think that's a reasonable expectation of a lesbian.
Season's Greetings! Have a nice day! Uh.... apologies for the hateful attack that sentiment expressed.....
Why should a penis be considered masculine, or a vagina be considered feminine? That's ridiculous....
Oh snap! C-C-C-C-C-C-C-Combo Breaker! Being a gay man is now offensive to straight women!

Yep.... pizza with no meat, or cheese.... sounds great! Uh.... but what about all the innocent plants that were slaughtered to make the sauce and base? Best to just eat clean natural air from now on, eh?
You must be really fun at parties. Guess who's the least fun person in the room?
Yep, no repurcussions at all,
ever
.
Yes, because two dogs relaxing on a couch together
certainly
give a single fuck about your politically-correct new-age gender guidelines:
If you freely and willingly consent to sex, you can still call it rape whenever you want. If you ever regret sleeping with someone, just call him a rapist. Because that has no consequences for him, and it's not amazingly disrespectful to
actual
rape victims.
Season FIVE, moron:
Feminism ain't gonna make you more sexually attractive or improve your spelling either.
Can anyone come up with any more ludicrous examples of stick-up-their-ass, easily-offended Bogo types than this? The bar is set.

Last edited: