Jun 3, 2012
13,217
12,910
Remember Mick's son who used to sit next to him at all of his events? Well now he's turning professional...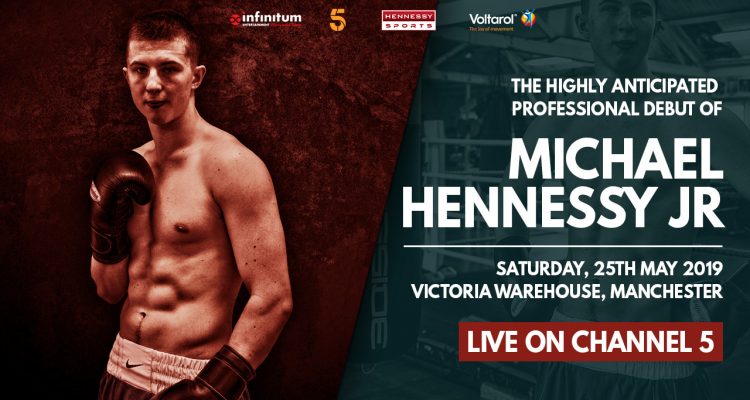 Over the past two decades, esteemed fight face Mick Hennessy navigated stars such as Froch, Witter, Barker, Eastman and the Fury cousins (Tyson and Hughie) through the fistic jungle and on to international acclaim. Now the innovative promoter's son Michael Junior is poised to enrich the family's fighting legacy…between the ropes!
The 19 year old 6ft 1in middleweight is an amateur centurion who served a quality ring apprenticeship on both sides of the Irish Sea and as a spar hand within several of the capital's most revered pro academies.
Now the angel-faced action man intends utilising dad's influence to take the outside lane to the top in the paid sphere.
While licences and medicals are due to be issued, the intention is to unleash Michael into the profession on his dad's show at Manchester's Victoria Warehouse on May 25th headlined by Hughie Fury's return to the ring against Chris Norrard, exclusively live on Channel 5.
'I've got a very exciting, TV friendly style. I love to fight and, in future, when I need to, the public will enjoy seeing me go toe-to-toe. Once people see me in action they'll begin to realise I've served a very hard apprenticeship and I belong at this level."
quips Junior in a soft tone that belies the spite and aggression for which he is lauded once his boxing gloves are laced.
The Noble Art has been a fundamental factor in Michael Jr's existence since before he could recite his alphabet.
'Boxing's my life,'
states bright boy Michael, who attained five A Stars and five A grades at GCSE level whilst also competing at the highest level of amateur boxing.
http://www.hennessysports.com/news/michael-hennessy-jr-pro-boxing-is-where-i-will-come-into-my-own/