Just here for the chat...
Welcome to the RBR for a decent night of boxing in Nottingham.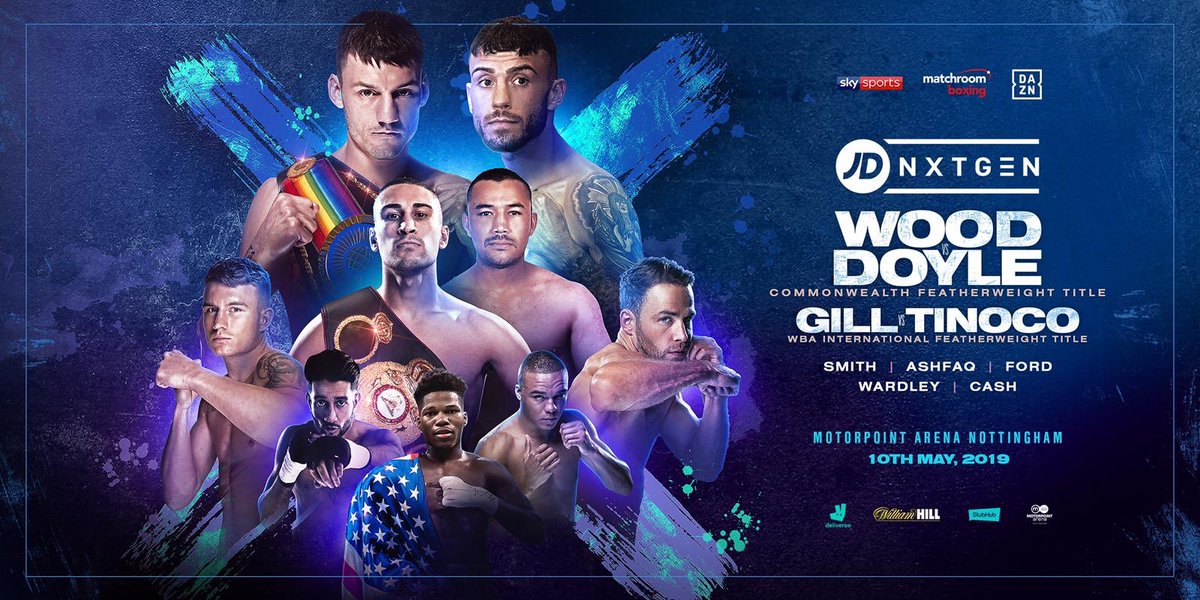 Order is subject to change.
NOTTINGHAM WEIGHTS AND RUNNING ORDER
DOORS 16:30 – BOXING BEGINS 16:35
6 x 3 mins Lightweight contest
ATIF SHAFIQ 9st 10lbs 9oz v ARTURO LOPEZ 10st 1lb 1oz
(Rotherham) (Mexico)

6 x 3 mins Lightweight contest
STEPHEN SMITH v DES NEWTON
(Liverpool) (Devon)

4 x 3 mins Featherweight contest
BRAD DAWS 8st 13lbs 4oz v ZIGURDS KRAUKLIS 9st 3lbs 3oz
(Carlton) (Latvia)

6 x 3 mins Cruiserweight contest
CHRIS BILLIAM-SMITH 14st 1lb 7oz v YASSINE HABACHI 14st 3lbs 5oz
(Bournemouth) (Italy)
18:15 LIVE SKY SPORTS FACEBOOK
6 x 3 mins Heavyweight contest
FABIO WARDLEY 16st 7lbs 8oz v DENNIS LEWANDOWSKI 25st 2oz
(Ipswich) (Germany)
19:00 LIVE SKY SPORTS
4 x 3 mins Super-Featherweight contest
RAYMOND FORD 9st v ALEKSANDRS BIRKENBERGS 9st 1lb 5oz
(New Jersey, USA) (Latvia)

10 x 2 mins Lightweight contest
TERRI HARPER 9st 1lb 7oz v CLAUDIA LOPEZ 9st 1lb 2oz
(Denaby) (Argentina)

4 x 3 mins Super-Lightweight contest
DALTON SMITH 10st 7oz v LUKA LESKOVIC (weigh in Friday)
(Sheffield) (Croatia)

12 x 3 mins Commonwealth Featherweight Title
LEIGH WOOD 8st 13lbs 7oz v RYAN DOYLE 8st 13lbs 6oz
(Nottingham) (Manchester)

10 x 3 mins WBA International Featherweight Title
JORDAN GILL 8st 13lbs 8oz v ENRIQUE TINOCO 9st
(Chatteris) (Mexico)

LIVE FLOAT
4 x 3 mins Super-Featherweight contest
CHARLES FRANKHAM 9st 8oz v TZEMAL XOUSEINOGLOU 9st 12lbs 5oz
(Crowthorne) (Greece)


Really looking forward to seeing the continuing journey of Wardley.



'If Dalton Smith doesn't win a world title we will class it as a failure'
Matt Bevan speaks to Grant and Dalton Smith about their plans to progress through the professional ranks

Father and son combinations in boxing divide opinion. At one point there was even talk of the WBC trying to ban fathers from their sons' corners. However there is no denying the success that many have had in the sport, even if the limelight can be a difficult spot to share. Dalton Smith has no such worries, as he begins his professional journey on Friday in Nottingham, after a highly successful amateur career, with his father and trainer Grant running the corner and guiding him through the murky political waters of the pro ranks.

At just 22, he has been snapped up by Matchroom Boxing and the Sheffield man is being billed as a future star. Those that saw him in the amateurs will confirm his potential to go far. With the doubts surrounding boxing's definitive future at the Olympic Games, Smith wasn't going to wait around to see how the pieces fell. Dalton explained, "It's been a long process, getting released by the amateurs, turning over and then starting training camp but that's all done and I can concentrate on my first fight. The Olympics in Tokyo are only next year, but they [are going to] change the weights so it would have been difficult for me to either go up or down, so the only other option was to turn professional.

"Matchroom are the biggest promotional outfit out there, so to have them backing me, as well as fighting on both Sky Sports and DAZN in the US is massive for me. Starting in Nottingham as well is great, as most of the Matchroom cards seem to be at the O2 Arena in London, but to debut close to home and be able to take plenty down is perfect for me.

"I was on the GB program for five years and being alongside some world class amateurs and world champions like Anthony Joshua at the Institute of Sport, as well as in my home gym with Charlie Edwards has been a great example for me. I don't want to move too slow, but I also don't want to rush everything, so it's about finding the right balance."

http://www.boxingnewsonline.net/if-dalton-smith-doesnt-win-a-world-title-we-will-class-it-as-a-failure/


I think this is a very decent card, enjoy...