Mark it down.
When David Price fought Roberto Cammarelle he froze up, he looked like a deer in the headlights, got bullied and stopped.
David Price was 25 years old and had had something like 130 amateur fights over the course of about 7 years. The man does not have natural confidence and never has done. On top of this he used to get stopped by a lot of fighters in the Amateurs, I think someone said it was thirteen times he got dropped with the crash-helmet on?
Anthony Joshua did benefit from some dodgy judging in the quarter final at the Olympics, but putting that aside the kid has proven to me that he's better than David Price ever was at a much younger age.
Joshua has the punching power, and decent enough skills to work with but he has the two most important things that you can't teach.
Where Price used to freeze in his big amateur fights, Joshua walked out there with his chest pumped out and didn't give a fuck, after something like 20 fights he had WAY more confidence than Price has ever shown, and although the Olympic final was close (I thought he won), he'd also beaten Cammarelle much easier in the World semi finals, before getting jobbed out himself.
The way he fights also means he's eaten some big shots, and they will have to address that defence, but that isn't a problem, you can learn defence. It's more important to me that he demonstrated a much better chin than Price has, easily standing up to the same punches that had Price doing his little dance
6'6"
23
Confident
Good Chin
Decent skills
Power
This is the guy imo, I hope he turns pro sooner than later though, needs to happen within 18 months or he'll be wasting too much time in the crash helmet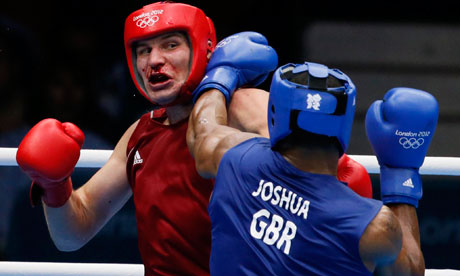 Night and day