http://espn.go.com/blog/Boxing/post/_/id/1521/mayweathers-choice-is-clear-canelo
The key observation:
1. A crossroads fight for the ages: A young and feisty undefeated lion versus a crafty, experienced unbeaten fox? The meshing of styles is so apparent that it needs little elaboration. Alvarez, 22, is a freight train of a fighter who has power in both hands and the heart of a warrior, always charging forward with little regard for his safety. Mayweather is the lightning-fast consummate technician with seemingly unlimited resources and the boxing equivalent of Wikipedia downloaded to his brain. It's the old matador-versus-raging bull paradigm, and people have always paid to watch it. You can bet they'll pony up to witness this one.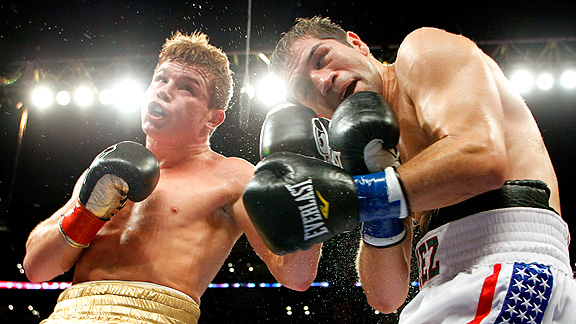 Would never have described Alvarez like that...
Thoughts? Is he really the best opponent for Mayweather?