News and stuff this week:
Ioka Relinquishes WBC Title
Having been given an ultimatum by both the WBA and WBC to drop one of the two belts that he claimed during a gruelling unification battle with Akira Yaegashi, Kazuto Ioka has decided to relinquish his WBC minimumweight title.
Due to this, Ioka (10-0, 6KOs) will not have to face the dangerous Denver Cuello, who is mandatory for the WBC crown. In a call-out video, Cuello stated: "if you're scared of fighting me, you can run up to 108lbs and just give me the belt."
That is, coincidentally, the plan for the 23-year old Ioka, who is targeting Roman Gonzalez (32-0, 27KOs), the WBA light flyweight champion and P4P one of the best fighters in the world.
Nishioka will be Ringside for Donaire-Mathebula
http://checkhookboxing.com/content.php?231-Nishioka-Ringside-for-Donaire
Sosa-Ikehara set for July 28 in Mexico
Former light flyweight 'world' champion Edgar Sosa (45-7, 27KOs) will defend his newly acquired WBC silver flyweight title against former OPBF and Japanese title challenger, Shigetaka Ikehara (22-3-2, 18KOs) on July 28 in Guanajuato, Mexico.
In their last fights, Ikehara, 30, dropped a debatable decision against Takuya Kogawa for the Japanese flyweight crown, whilst the 32-year old Sosa edged out the underrated Wilbert Uicab to claim the WBC silver title.
In the supporting bout to the scheduled main event, the always exciting Dante Jardon will meet tough gatekeeper Miguel Roman in an intriguing all-Mexican clash.
Lopez in Japan to Prepare for Sato fight
With the biggest fight of his boxing career coming up, Sylvester Lopez is taking no chances. The 24-year old mandatory challenger for the WBC super flyweight crown has been in Tokyo, Japan since last week in preparation for his title fight with Yota Sato (24-2-1, 12KOs) on July 8.
Lopez (19-3-1, 15KOs), who won his WBC title opportunity when upsetting Oscar Ibarra away from home in Mexico, has been getting quality sparring with Japanese champions as his training camp tapers down.
Although he was six pounds over the super flyweight limit of 115lbs on Wednesday (27 June), his trainer, Gabriel Elorde, expressed no concern.
"Very good condition," mentioned Elorde when asked about the shape his fighter is in. "He likes the weather which is not so hot. He is very serious in his training."
Laurence Cole will be the referee for the fight.
The Latest on Linares and Shimoda
Teiken fighters Jorge Linares and Akifumi Shimoda are hoping to put recent disappointments behind them as they plan to rebuild their careers.
Linares (31-3, 20KOs), 26, has recently started training again at the Teiken Gym and is hoping to return to action by October, and possibly in Japan. He then hopes to have another fight in December to close out the year.
The 27-year old Shimoda is scheduled to return on August 4, as he continues to recover from his devastating loss to Rico Ramos back in 2011. No opponent has been announced as of yet.
Suguira Wins in Australia
Australian-based Japanese lightweight prospect Takashi Suguira (5-0, 4KOs) prevailed again on Friday (June 29), as he stopped journeyman Jayson Mac Gura (1-8-1, 1KO) in the second of a scheduled four rounds.
Suguira, 23, was originally scheduled to appear on a card the previous week, but that plan fell through for undisclosed reasons.
Picture of the Week​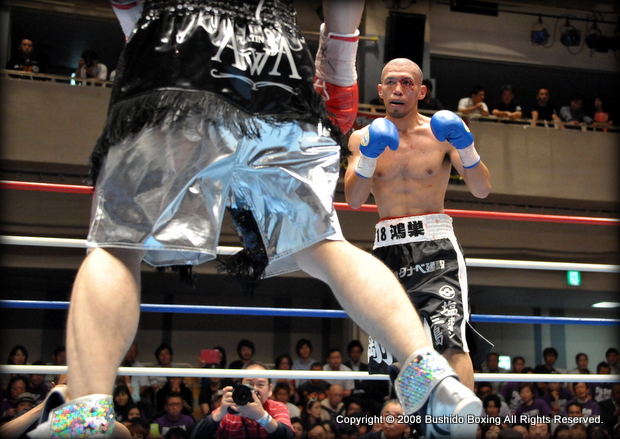 Tsuyoshi Ozawa (13-4-1, 2 KOs) focuses on Shinya Iwabuchi (19-3, 15 KOs). Iwabuchi retained his Japanese light welterweight title via unanimous decision​
Upcoming Schedule​
Saturday 7th July
Ryosuke Iwasa (11-1, 8KOs) vs Kentaro Masuda (14-5, 8KOs)
~ Japanese bantamweight title - 10x3 ~

Sunday 8th July
Yota Sato (24-2-1, 12KOs) vs Sylvester Lopez (19-3-1, 15KOs)
~ WBC super flyweight title - 12x3 ~
---
Akinori Watanabe (25-4, 23KOs) vs Kazukaze Yamakawa (11-6-1, 2KOs)
~ OPBF & Japanese welterweight title - 12x3 ~

:thumbsup​