Discussion Starter
·
#1
·
Looking Back At Paul Pender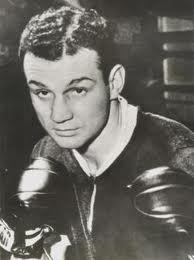 Paul Pender in his fighting days
By Matthew Hurley: For a man who defeated the great Sugar Ray Robinson twice for the middleweight crown, Paul Pender is sometimes forgotten in the pantheon of exceptional 160-pound fighters. A solid, rugged boxer who rose to the top near the end of his career, Pender sadly remains in a sort of fistic limbo outside of his hometown of Brookline, Massachusetts. His name doesn't resonate like Robinson's or Carmen Basilio's, both of whom he defeated. Still, such was his talent, despite brittle hands that plagued him throughout his career, that he was properly inducted into the Boxing Hall Of Fame in 1994.
There is a special bond that Boston area boxing fans have for local, blue-collar fighters who climb the ranks slowly and finally achieve their dream of becoming a world champion. The two most famous from the area, outside of heavyweight champion John L. Sullivan, both fought out of Brockton - Rocky Marciano and Marvelous Marvin Hagler. They reached the pinnacle of superstardom. Toss in an Irish pedigree, such as Lowell's Micky Ward, and you've got a raucous, rabid fan base overflowing with scaly caps, pints of Guinness, Irish chants and good cheer. Pender, born in Brookline but whose family roots lay in Killarney, County Kerry was just such a fighter. To this day, his picture can be found in many a Boston Irish pub. The boxing world, in general, may have forgotten him to an extent, but hardcore fans in Massachusetts never have.
Pender, the son of a fireman (and he later became a fireman himself) enjoyed some early success in the ring before finally dropping a decision to Norman Hayes in 1950 in Boston. He would reverse that result by knockout in the immediate rematch, but he would admit later that the loss had rattled him and tore apart his confidence. In his next five bouts the dispirited fighter would win only once, getting knocked out twice.
Disillusioned, Pender walked away from the sport for nearly two years. He joined the Marines and soon became the coach for the boxing team.
But Pender, who commented that he felt there was unfinished business to attend to in the ring, came back in 1954 to win a decision over Larry Villeneuve.
Then in 1955, in Brooklyn, New York, he took on the awkward and tenacious Gene Fullmer. It was in this losing effort that Pender showed his grit, heart and determination. He broke his left hand early in the bout and then his right hand in the later rounds. Still, despite hitting the canvas and hands that felt like balloons, he went the distance. The fight with Fullmer should have solidified his reputation and given him the confidence to soldier on. Instead he disappeared for over a year - a huge amount of inactivity for a boxer in the 1950s.
He finally came back in late 1956 to outpoint Jimmy Skinner, but again his hands let him down. He broke his right hand and then literally threw those aching paws up in the air in disgust and retired for nearly two years.
In the interim, the sometimes wild, and perhaps angry young man, lost his way with drink before marrying, having kids and settling down into a comfort zone he hadn't known for sometime. It was at this time he became a fireman to support his family.
But his dreams of fistic glory still burned in his heart and he decided to give it one more shot.
After several successful fights in 1958 and early 1959 he faced popular middleweight contender Ralph "Tiger" Jones. Surprisingly, his fragile hands held up and Pender boxed with an elegant grace to win a unanimous decision.
Meanwhile, the middleweight division was in upheaval. Sugar Ray Robinson, the reigning champion, was stripped of the NBA version of the crown for inactivity forcing a face off between Carmen Basilio and Gene Fullmer. However, many areas followed the New York State Commission's decision to still recognize Robinson as the real middleweight champion, including Massachusetts. This would lead to Pender's title shot against Robinson and his greatest glory as a prizefighter.
Robinson said before the fight when he was offered $70,000, and not knowing who Pender was, "For that amount of money I'd fight Paul Revere in Boston."*
Entering the 1960 title challenge as a prohibitive underdog, and completely underestimated by Robinson, Pender survived an early assault to win the title by split decision in front of an elated Boston Garden crowd.
Robinson later commented that he "just couldn't get going. I got tired."**
The rematch, later that June, was also held in Boston and was another closely contested affair, although one of the judges scorecards, at 149-138 for Pender, was so out of whack it proves that bad judging has gone on forever in the sport. But Pender got the decision he deserved.
He would then face off against another popular middleweight, British contender Terry Downes in a trilogy befitting some of the great rivalries in boxing. In the first go round he stopped Downes in the seventh stanza of a terrific battle. Pender graciously commented, "Sugar is clever and hard to catch, but Downes comes at you all the time and hurts you with everything he hits you with."**
Before the rematch Pender decided to square off against another legend of the ring, Carmen Basilio, again in Boston. He floored the iron-chinned "Onion Farmer" and went on to decision him easily over fifteen rounds.
Then came Downes again at Wembley in London less than three months later. Both men were cut severely in a clutch-and-grab fest that left Pender unable to continue after the ninth round.
The two rivals would face off for a third time in April of 1962 back in Boston. Pender again employed a more mauling tactic and regained the title by unanimous decision.
He was then set to fight Gene Fullmer again for NBA recognition as the "legitimate" middleweight champion but Fullmer, under pressure from the NBA commission was strong-armed into defending his title against Dick Tiger. Fullmer lost by unanimous decision and the aging Pender began to again become disillusioned with all the backstage machinations that often chewed fighters up and spat them out without so much as a "thank you."
When a scheduled fight against future light heavyweight champion Jose Torres fell apart Pender simply gave up, later saying, "Boxing is so rotten with gangsters and thieves it should be banned for a five-year clean up period."**
After retiring from the ring Pender worked as a security guard and later as recreation director at the Norfolk jail in Massachusetts.
After suffering a serious stroke in 1999 he would go on to battle Alzheimer's Disease until his death in January of 2003.
In the end Paul Pender remains something of a hidden gem in the storied history of the middleweight division. Despite his later aversion to the sport, or more to the point, the shady business dealings that often crippled his career, Pender always conducted himself with dignity and fought with a fiery spirit that led him to the top of the heap. For that his career deserves reexamining. Any fighter who defeated Sugar Ray Robinson twice should get as much.
* Sugar Ray With Dave Anderson
** Boxrec.com
Link
May 9, 2012