Welcome to the RBR for Joshua vs Povetkin, The East Vs The West, Youth Vs Experience, Joshua Vs Putin (Eddie's words).
There are also some undercard fights... Can Price make yet another successful comeback? Will Campbell get his revenge? Will Askin Vs Okolie be fight of the night (I think it will)? Who are Giyasov and Laguna?
Anthony Joshua v Alexander Povetkin: WBA, WBO & IBF Heavyweight World Titles
Luke Campbell v Yvan Mendy: 12 Rnds Lightweight
Matt Askin v Lawrence Okolie: British Cruiserweight Title
David Price v Sergey Kuzmin: 10 Rnds Heavyweight
Shakram Giyasov v Julio Laguna : 8 Rnds Welterweight
Wembley Stadium , Sky Box Office (18:00)
The Full, Final Press Conference.
Big Daddy Bunce doesn't think Povetkin will be easy.
Anthony Joshua vs Alexander Povetkin: Why the Russian is tough, dangerous and far from the walkover many predict
Joshua is much the taller and heavier fighter but Povetkin always surrenders the physical edges and so far only Wladimir Klitschko has beaten him in 35 fights and that went the full 12 rounds
Make no mistake the Anthony Joshua carnival is the most entertaining in boxing right now with a caravan of friends, experts, hawkers, dreamers and one or two jesters bearing belts, promises and hope.
On Saturday night he will walk through the glittering lights at Wembley Stadium to fight a hardened, brutal boxer called Alexander Povetkin, who brings to the ring a jaw of rock, a gold medal from the Olympics in Athens and two drug smears from a bad time in Russian sport. Povetkin once also held the heavyweight title and is far from the inevitable scrap heap of washed-up fighters.
This will be Joshua's seventh heavyweight championship fight, the second at Wembley and an anticipated crowd of 80,000 means that just under 400,000 people will have paid to watch Joshua live in title fights. Nobody in history at any weight and in any era can match the crazy numbers of the Joshua show and that is why he has so many lavish endorsements. He also knows how to smile, bow at the Palace and say the right thing between beating men senseless.
continues - https://www.independent.co.uk/sport...walkover-prediction-steve-bunce-a8548226.html
The view of the Russians.
Povetkin -
"The battle for the world title has always been my goal, I fought for the moment to face the strongest in the world and on September 22 I get my opportunity. Anthony Joshua has four belts and I want them all. I'm glad that our fight will finally take place, the meeting of two Olympic champions in the ring is destined to be a breathtaking event."
Andrey Ryabinskiy -
"The fight between Joshua and Povetkin is one of the biggest fights that can happen in the heavyweight division today. This is a colossal battle between two Olympic champions and it is sure to be an unforgettable night of boxing. I am delighted that Alexander is getting his chance to not only become a world champion again, but to challenge for the throne of the heavyweight division."
Fast Car looks like the cat that got the cream, now if only he could find those emails... oops that's a whole other thread.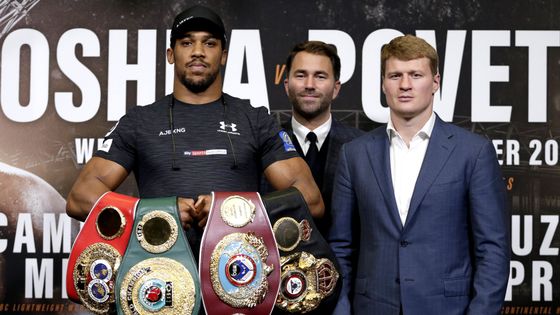 Joshua vs Povetkin: Time draws near for Anthony Joshua to release his obvious frustration
Last Updated: 21/09/18 7:19am
James Dielhenn
Comment & Analysis
A dark cloud hangs over Anthony Joshua this week - his irritated exterior could erupt into a throwback to his old, explosive self, writes James Dielhenn.
The world heavyweight champion feels ganged up upon. He is on home turf but, in many ways, is backed into a corner and outnumbered.
His stoic, savage challenger Alexander Povetkin is in London mob-handed with enough bodyguards to give Wladimir Klitschko's notoriously intimidating entourage a run for their money. Russian heavies have lurked in every corner this week, respectfully but authoritarian, and will have hardly improved Joshua's mood.
continues - https://www.skysports.com/joshua/news/34644/11503323/1
The view from @Chinny and the lads over at Boxing Monthly.
The Big Question: Joshua vs Povetkin - who wins?
Boxing Monthly
21/09/2018 3:43pm

Boxing Monthly's number one ranked heavyweight Anthony Joshua faces number three rated Alexander Povetkin at Wembley stadium on Saturday. Members of the BM team are here with their picks and predictions...
What did they pick? Well not many went for Povetkin, article - http://www.boxingmonthly.com/the-big-question/the-big-question-14/
Last Time Joshua was in Wembley he fought Klitschko.
The Klitschko Effect: Anthony Joshua Reflects on Style Change
By Navi Singh
Anthony Joshua has revealed that former opponent Wladimir Klitschko's style very much remains a source of inspiration, ahead of the unified heavyweight world champion's upcoming defence against Alexander Povetkin at London's Wembley Stadium.
The former 1996 Olympic gold medallist was renowned for a steady left jab, assertive footwork, physical strength, and punching power; aspects of his game that enabled him to become one of the longest-reigning heavyweight champions in history, under the guidance of the late Emmanuel Steward.
Joshua produced a performance that was described in some circles as "Klitschko-esque", in his most recent unification fight with Joseph Parker, adding the New Zealander's WBO title to his collection with a wide unanimous decision, after being extended the distance for the first time in his career following a previously uninterrupted 20-fight knockout streak.
"It was kind of a replica of Klitschko," Joshua explained, reflecting on the fight with Boxing Social.
continues - https://boxing-social.com/news/klitschko-effect-anthony-joshua-reflects-style-change/
That punch!! :bbb:bbb:bbb
The View from Campbell's part of the world.
Luke Campbell wants his own Wembley wonder against Yvan Mendy with victory not enough
The lightweight star wants to give a career-best performance in beating Yvan Mendy at Wembley to send a message to the world
by James Smailes
When there's a world title shot on the line, victory, above all else, is what matters when Luke Campbell meets Yvan Mendy on Saturday evening.
But while most boxers wouldn't mind how they crossed the finish line in a world title eliminator, with having your hand raised aloft simply enough, Campbell is not most.
The pain of losing to the Frenchman in December 2015 still stings harder than any shot he took that night.
Knowing he was far from his best has not quelled the disappointment of a first career loss for the Olympic champion, only serving to fire his determination to make sure Mendy, and the viewing public see the real Luke Campbell in action at Wembley.
Having seen his Hull FC side and Hull City both win at Wembley in recent years, Campbell wants to create his own slice of history at the national stadium with a stunning display.
continues - https://www.hulldailymail.co.uk/sport/other-sport/luke-campbell-wants-wembley-wonder-2022814
Revenge on the mind of Campbell.
A Dish Best Served Cold: Luke Campbell Looks For Revenge Against Yvan Mendy
By Navi Singh
At Wembley - another stadium venue becoming increasingly familiar to boxing fans - the unflappable and aptly-nicknamed 'Cool-Hand Luke' will have the opportunity to avenge his first professional loss inflicted by Frenchman Yvan Mendy, nearly three years ago.
Like then, Campbell will be facing Mendy on a card headlined by former GB stablemate Anthony Joshua, who has remained undefeated and become a unified heavyweight champion since his thrilling shootout with Dillian Whyte on December 12th, 2015.
It is said that statistically speaking, most rematches result in 'repeat' as opposed to 'revenge'. It is fortunate, therefore, that the Hull native is not an overly superstitious type; otherwise he may have harboured some reservations about fighting Mendy once again, especially under these circumstances.
continues - https://boxing-social.com/news/dish-best-served-cold-luke-campbell-looks-revenge-yvan-mendy/
The view from Blackpool.
Blackpool's Matty Askin ready to seize 'biggest opportunity' against Lawrence Okolie
by Matt Scrafton
Blackpool's British champion Matty Askin believes this weekend's Wembley showdown with Lawrence Okolie is his chance to prove he can mix it at the highest level.
The cruiserweight is preparing to defend his British title against the unbeaten Okolie in front of 80,000 spectators on Saturday night. The fight will form part of the undercard for Anthony Joshua's pay-per-view clash with Russia's Alexander Povetkin.
Despite winning his last five fights, Askin has yet to receive the widespread recognition he deserves, something that could change were he to beat former Olympian Okolie. The biggest name on Askin's resume is Polish cruiserweight Krzysztof Glowacki, who he lost to in 2012, but the Blackpool man believes he's not far away from cracking the big time.
"I'll walk straight in the ring, smack him on the chin and go from there. The atmosphere won't get to me. I'm focused on the fight itself. "In my head he gets knocked out. I don't see this going to points. What's in my head is usually what comes off, so I'm very confident."
continues - https://www.blackpoolgazette.co.uk/...ed-out-vows-blackpool-s-matty-askin-1-9357999
Lawrence Okolie: From having just £7 in the bank, he's now competing for the British cruiserweight title
EXCLUSIVE INTERVIEW
Lawrence Okolie has come a long way in the past 18 months.
The cruiserweight had just £7 in his bank account last year but on Saturday takes on Matty Askin for the British title on the undercard of Anthony Joshua's world championship fight at Wembley.
And a little further back - when Joshua was winning Olympic gold at London 2012 - Okolie, 25, was serving burgers at McDonald's in Victoria Station.
Now he's hoping to serve up something special in the ring, having been inspired by the multiple world heavyweight champion.
But you won't find Okolie, who has yet to move out of his mum's house completely, shouting loudly about his talents as he takes the same approach as Joshua - and that's to stay humble.
continues - https://www.standard.co.uk/sport/la...g-for-the-british-cruiserweight-a3941281.html
Paulie bigging up Big Dave.
David Price believes he is the nearly man and says he's about to bring that to an end.
Joshua vs Povetkin: David Price ready to end time as 'nearly man'
By Matt Horan
Last Updated: 19/09/18 8:05pm
David Price believes his time as the "nearly man" of heavyweight boxing will come to an end in dramatic fashion this Saturday night.
The Liverpudlian heavyweight has accepted a late opportunity to face Sergey Kuzmin on the undercard for Anthony Joshua's world title fight with Alexander Povetkin at Wembley, live on Sky Sports Box Office.
Speaking at Wednesday's public workout, Price, who lost to Povetkin last time out, said: "I think even though I came out as a loser [against Povetkin], I was a winner in a way in defeat.
continues - https://www.skysports.com/joshua/news/34644/11502471/1
Who is Shakhram Giyasov??
World of Boxing's Vadim Kornilov -
"We signed him this year. He is a world amateur champion and an Olympic silver medallist. He is a very interesting fighter from Uzbekistan who has already fought good opposition. He is fighting a 14-0 opponent [Julio Laguna]. Giyasov is a top-level amateur who will perform in the pros. Look at his record - he has already knocked out some good pros."
The Full card.
The odds should you wish to have a bet.
https://www.oddschecker.com/boxing
Fancy joining the prediction league? Trial this week...
https://www.checkhookboxing.com/index.php?threads/chb-prediction-league-instructions.107500/
Weigh-in Results.
Anthony Joshua - 17st 8lbs
Alexander Povetkin - 15st 12lbs
Yvan Mendy - 9st 8lbs
Luke Campbell - 9st 8lbs
Matt Askins - 14st 3lbs 8oz
Lawrence Okolie - 14st 3lbs 3oz
David Price - 18st 13lbs 4oz
Sergey Kuzmin 17st 6lbs 6oz
Shakhram "Wonderboy" Giyasov - 143.2 lbs
Julio Laguna - 142 lbs
So... here we are. I think fight of the night is likely to be Askin vs Okolie, Joshua should dispatch Povetkin within 5 rounds, I think Price is being fed to Kuzmin and Campbell will have too much for Mendy this time around. However I might be wrong with all of that. I have no idea what will happen between Giyasov Vs Laguna.
Enjoy the fights. :bbb