The Boxing Biographies
Newsletter
​
Volume 9 - No 1 18 April , 2013
​
If you wish to sign up for the newsletters ( which includes the images ) please email the message "NEWS LETTER"
[email protected]
​
To download the PDF file
http://www.keepandshare.com/doc/6188036/boxing-biographies-newsletter-vol-9-no-1-pdf-1-0-meg?da=y
Contents summary
ENGLISH LIGHTWEIGHT LOOMS
​
AS TOUGH BOXER TO TROUNCE
​
Jack Berg, the sensational English lightweight who gave Kid Chocolate
of
Cuba his first ring trimming, should be a dangerous opponent for Al Singer, new lightweight champion. There isn't any doubt in the world that Berg will give Singer a fight, and it's no secret that Singer isn't at his best against a fast man who never stops hitting.
Singer lost to Kid Chocolate in 12 rounds last August. And Ignacio Fernandez, who crowded the present king of all the lightweights, viciously enraged by being struck low, knocked Singer out in three rounds three months before that. No doubt Singer has improved a lot in the past year, and has the confidence that comes to any man who knocks out a champion, but that doesn't prove he can beat the British whirlwind. Singer looked like Terry McGovern in the quick knockout of Mandell, but he isn't always such a punching wonder. Eight of his fights last year, aside from the one he lost to Kid Chocolate, went 10 rounds to a decision.
Moorhead Daily News
11 April 1931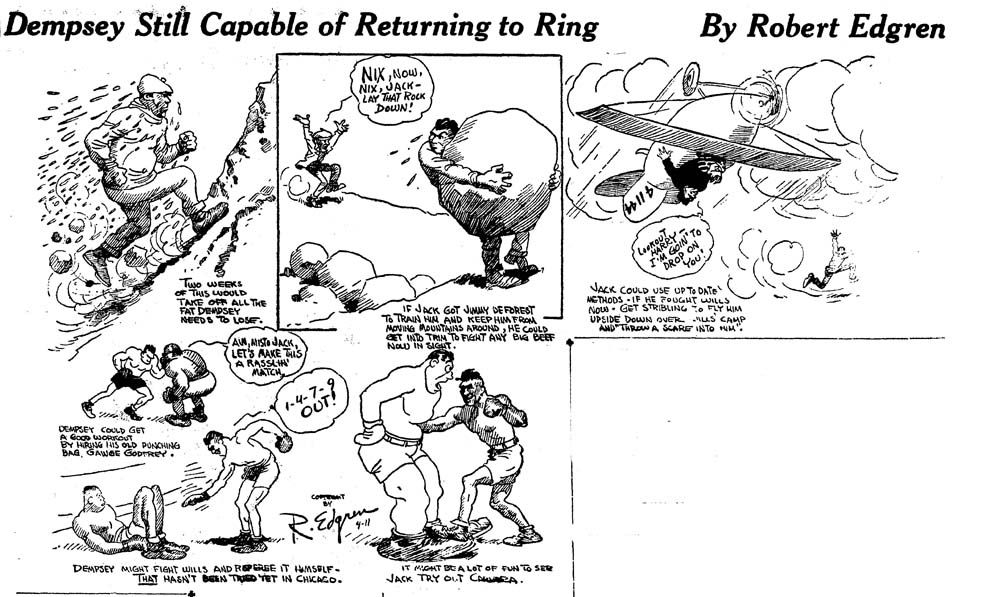 Jack Dempsey said he'd never fight again, and a few days later stood right up in a Chicago court
and offered to fight Harry Wills "any time the promoters put up that million dollars they offered." Well, you couldn't blame Dempsey for changing his mind if there's that much profit in it.
Jack Dempsey never could be the iron fisted ring tiger he was when he battered the gigantic Willard into a helpless hulk. But he could be a very good fighter if he wanted to come back, even now. Dempsey is only a year older than Bob Fitzsimmons was when Bob knocked out Jim Corbett for the world's championship. He is four years younger than Fitzsimmons was when he put up the greatest fight of his life, battering the greatest heavyweight champion of them all, , Jim Jeffries, to a bleeding pulp in that San Francisco ring, smashing both hands in the vain effort to crush big' Jeff down, and being knocked out himself only when both hands were gone.
Moorhead Daily News 18 April 1931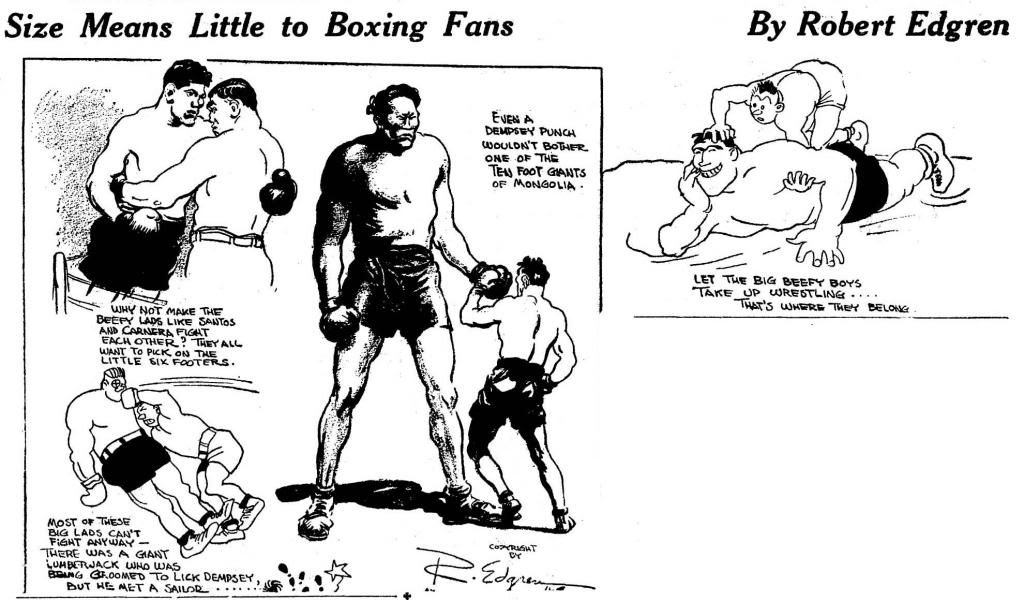 There has been a lot of talk about the "slump" in boxing and much theorizing about what can possibly be wrong with the good old game that made popular world heroes of such characters as John L. Sullivan, Bob Fitzsimons, Jim Corbett, Jim Jeffries, Jack Dempsey, Joe Gans, Terry McGovern, etc., etc.
One of boxing's troubles was over promotion. A good fighter might be worth what Jeffries and Corbett drew at the gate back in 1903, which was a modest $63,340. But it is impossible to think that a "championship contest" of only 10 rounds can by any miracle be worth $2,658,660, same being the amount paid in at the ticket offices when Dempsey and Tunney had their return match in Chicago. The first was a championship match, at a 20 round distance, and the men earned what they got when the winner's and loser's end together amounted to $43,68. Compare that to the $990,445.54 Tunney got at Chicago, and get a laugh.
Moorhead Daily News 16 July 1931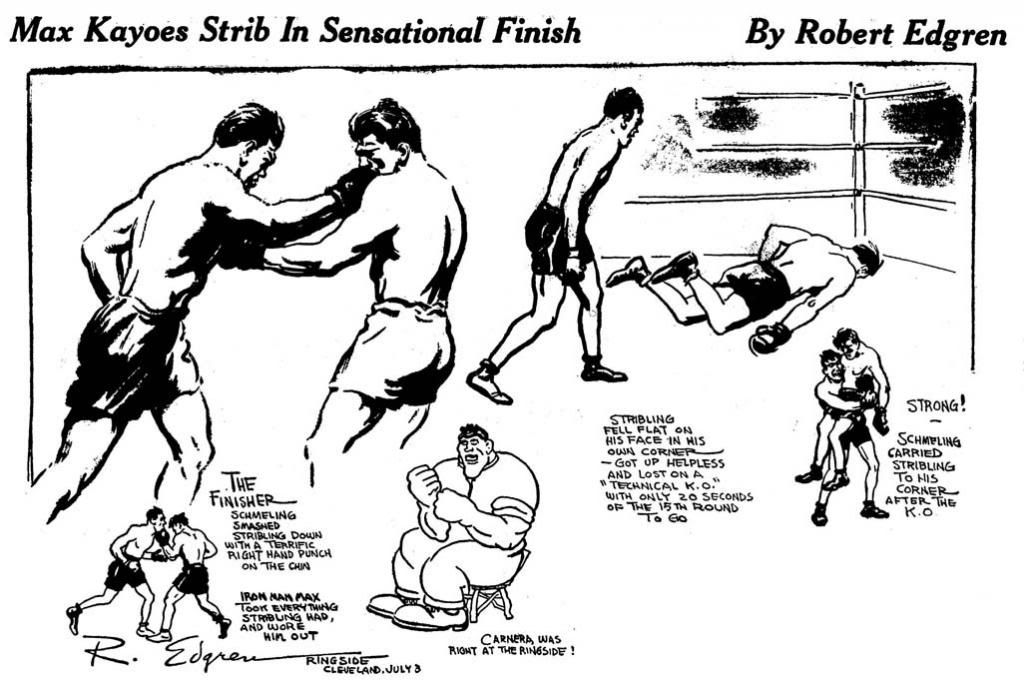 In one of the most sensational finishes seen in a heavyweight championship fight in many years. Max Schmeling knocked out Young Stribling in the 15th round, with less than 20 seconds to go. From the beginning of the sixth round, when Joe Jacobs sent Max out with the warning: "You've got to fight-it looks bad,"
It was Schmeling's fight all the way except in spots here and there. In the mere matter of landing blows Stribling scored well enough, but his hardest and most perfectly placed smashes on chin and body had no effect at all on the man of iron from Germany. Nothing
seemed to hurt Max. He was hit by enough to knock out a dozen ordinary men, and his knees never shook. He was socked on the point of the chin with vicious uppercuts, and he grinned. The grin increased as the fight went on.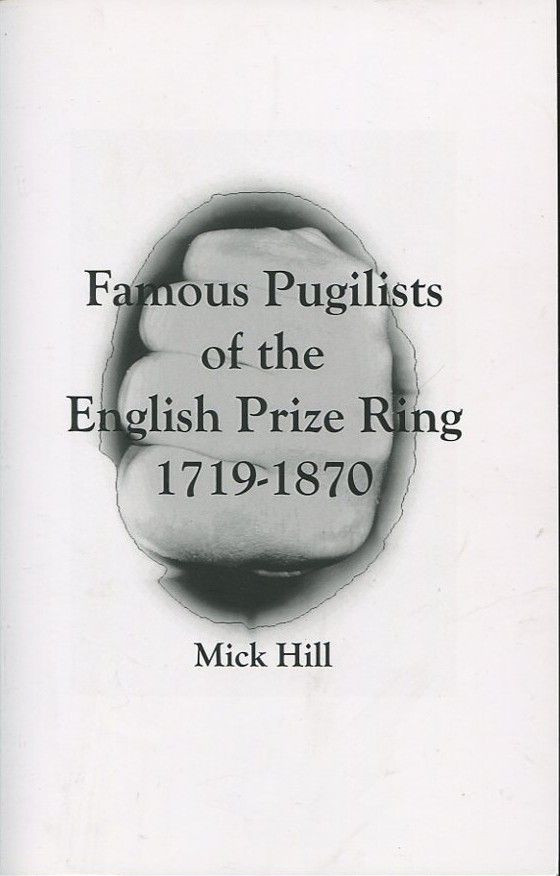 Mick Hill has recently produced a worthy book on the English Prize Ring. For those of you that don't know Mick, he has long held an interest in boxing, and in particular, the days of bare-knuckle fighting. Mick has produced a 200-page book on the prominent boxers of the eighteenth and nineteenth centuries and he has ensured that many of the lesser-known names of this period are included, in the form of mini-biographies.
There are nearly 80 pugilists featured within the book and some of them will be new to even the most fervent follower of boxing during the bare-knuckle age. Two of the first three names included within the book, for instance, are Tom Pipes and Bill Gretting, and it is a welcome change to see the stories of men such as these recorded.
As well as producing a page on each boxer which describes their achievements Mick has also taken the trouble to produce their fighting record and virtually all of them also have an illustration. Another welcome addition is the inclusion of the nickname, and so many of these boxers were well-known by their nickname. As an example, the exploits of Jeremy Massey aka "The Stunted Lifeguardsman" can be followed on page 184 and, as well as the biographical details relating to his career, which are spread across two pages, one call also see full details of his fight record. 18 contests are listed for the period between 1842 and 1856 and one will find that Massey was once proclaimed the "Best in the land at Featherweight".
It is a nice little book and would be a welcome addition to the bookshelves of a boxing bibliophile. The price is £13.99.
To purchase a copy please order from www.fastprint.net/bookshop or Amazon. On Amazon
http://www.amazon.co.uk/Famous-Pugilists-English-Prize-Ri/dp/178035505X/ref=sr_1_25?s=books&ie=UTF8&qid=1365594385&sr=1-25&keywords=bareknuckle+boxing
Or to contact Mick direct please email

[email protected]