Discussion Starter
·
#1
·
some interesting reports of their fights i thought...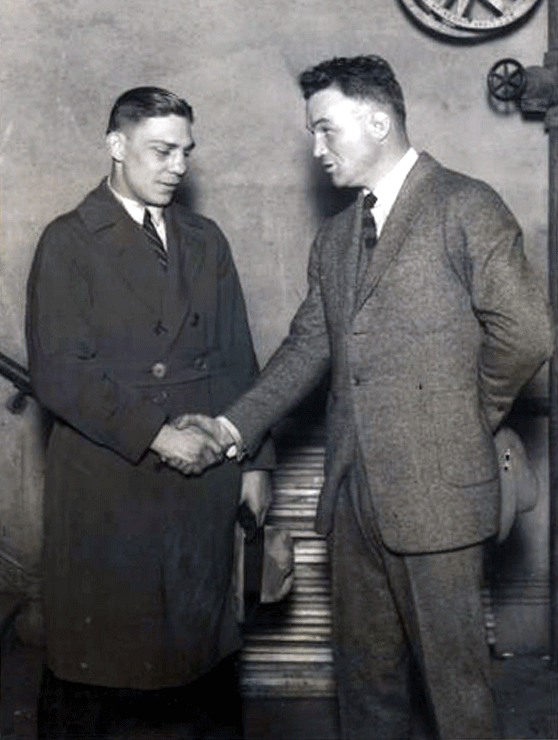 16th nov 1915....gibbons wins (10 rounds)...
(both weighed 158 for this fight).
The Pittsburgh Post reported that Greb held his own in the fourth round and Gibbons won all of the others. Gibbons showed a brilliant left jab, plus plenty of straight rights and right uppercuts. Greb was very aggressive and his punches carried a lot of steam, but Gibbons made him miss a lot and was much more accurate. Tommy gave Harry a real beating in the 9th and 10th. Greb was in tough shape at the end of the 9th after taking a terrific overhand right, followed by a two-handed battering. The St. Paul Pioneer-Press said that "Greb showed himself a tough two-handed fighter, dangerous at all times, but the scientific Tommy cut rings around him and won by a comfortable margin..He jabbed Greb with straight lefts and did good work, also, with his right hand whenever he saw an opening..At infighting Tommy showed marked superiority to the Pittsburgh battler..Tommy frequently made Greb miss so badly that he seemed to be shadow boxing in the middle of the ring..At the close, Greb was bleeding profusely from a split lip and a cut below his left eye. Tommy was unmarked save for a cut on his nose."
...........................................
15th may 1920...gibbons wins (10 rounds)...
The defeat was the first for greb in 68 contests, dating back over two years.
At a distance or in close, it was the same story. Greb, one eye puffed so that it was of no use to him, was a plaything in the hands of the relentless Gibbons. Ever and ever Tommy bored in, picked his spot and let punches go. Many times he caught Greb standing still on the ropes and planted hard blows with either hand or both. Always that left hook was the best bet. He literally hooked Greb "to death" with it. Harry could not get out of the way of it, and the solid punches, delivered with Tommy set, shook and jarred and hurt, so that it was no wonder that Harry had to clinch many times.
Greb "took the licking of his life." Gibbons won 7 rounds, Greb only two (narrowly), and the third round was even. "Gibbons astonished the fans with the speed and accuracy of his punches, and his ability to make Harry miss and look bad. Gibbons has made a believer of this writer (Florent Gibson), who did not believe him of the same caliber as Greb. Ringsiders declared..that Harry looked awfully bad and didn't fight his usual fight." Gibbons "seemed to solve Greb's attack with ease." He marked up Greb badly but didn't hurt him too much. "Gibbons was the aggressor at all stages. He had Harry backing away from the start..and this is unusual." Greb even had to hold in the last three rounds. Greb occasionally switched around and surprised Gibbons, but not much. Gibbons made Greb's right hand almost useless. Greb did win the 5th and 6th rounds but he definitely took a licking.
Greb had the look of a thoroughly beaten fighter at the finish; his body was red from the blows absorbed to the midsection, his left eye was swollen shut and discolored, his face puffed up and several front teeth were reportedly missing as well.
- The Pittsburgh Gazette-Times
....................................................
31st july 1920....greb wins (10 rounds)...
The fight occurred at 4:30 PM on a hot July afternoon before 12,000 fans. According to Florent Gibson, Greb won 7 rounds, Gibbons took the 2nd and 6th, and the 3rd was even. It was a rugged, slashing battle. At the end of six rounds the fight was close. In the 7th a heavy rain started to fall and the spectators ran for cover. The men fought on and Greb seemed invigorated. He started landing well and Gibbons then hurt him with a smashing right to the jaw. Greb replied with a terrific rally that caused Gibbons to cover and Greb won the round. The rain continued to pour down through the final three rounds and it grew dark as twilight. Florent Gibson stayed out in the rain and described the fight to the other writers, who took shelter under the ring. "Those last four rounds were novelties, but I doubt that the fans in the stands saw much of them." Greb fought one of his greatest battles "in a furious electrical storm." As the rain poured, Greb was "all over Gibbons" and manhandled him. Gibbons had trouble getting set for his punches; the conditions seemed to favor Greb, the great improviser. Gibbons lost his temper and his effectiveness.
~ the Pittsburgh Post
................................................